Expanding
Jeff and I went down to see Robert Hodgin & Aaron Toblin's exhibit at
GAFFTA
a couple weeks ago. They are both such awesome artists. I'm really excited to be collaborating with Robert for the
2010 01SJ Biennial
in September. We're going to put on a joint performance. The spiel:
"
Composition for the ears meets composition for the eyes in an organic, evolving world of sight and sound. Zoë Keating will create a lush soundscape of live, layered cello, which Robert Hodgin will translate into light. "
While we were there, I finally saw the SFMOMA posters in the MUNI station that everyone's been talking about. I really wanted to steal one, but I refrained.
However, I doubt you will find the poster the most interesting thing about this photo ....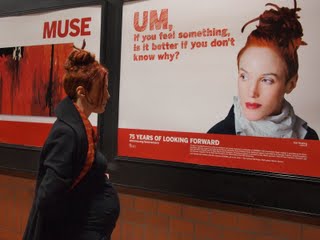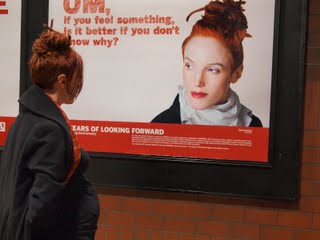 ahem.
Yes, its true! We're expecting a baby in MAY! So, if you see me over the next couple months, please don't think my latest hippo-look is just because I've gone all crazy with the chocolate ice cream (although I admit I have felt compelled to eat a fair amount of it over the last few months).